Warhammer 40,000 figures, almost 50, un-assembled! , vendido en Septiembre 2010, ¡Por 25 EUR!
¿Cansado de perder subastas en el último segundo?
Date de alta en Keecua.com y consigue artículos como éste al mínimo precio gracias a las pujas de último segundo de Keecua.com, con Keecua.com conseguirás los mejores precios en eBay y evitarás subastas fraudulentas.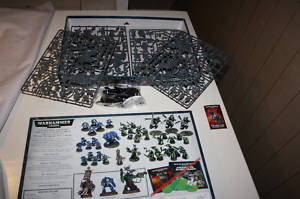 Seller assumes all responsibility for this listing.Item specificsCondition: New   For sale,Warhammer 40,000 figures.New, un-assembeld, and unpainted, still in their formers. Included are:1x Marine captain10x tactical Marines5x Terminators1x marine Dreadnaught1x Ork Warboss20x Ork Boyz5x Ork Nobz5x Ork DeffkoptazzHappy bidding!Will ship worldwide, shipping costs are for the buyer.00058
Puede que también te interese...