VINTAGE BARBIE DOLL BLONDE , vendido en Septiembre 2010, ¡Por 29.99 US$!
¿Cansado de perder subastas en el último segundo?
Date de alta en Keecua.com y consigue artículos como éste al mínimo precio gracias a las pujas de último segundo de Keecua.com, con Keecua.com conseguirás los mejores precios en eBay y evitarás subastas fraudulentas.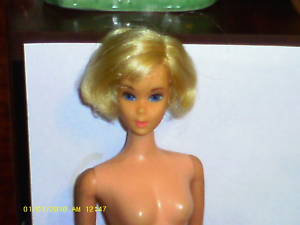 Seller assumes all responsibility for this listing.NICE OLD DOLLS,VERY PRETTY NO NECK SPLITS , NO NOSE NIPS NO GREEN EAR ,TWIST N TURN BARBIE HAS SPARSE LASHES , ONE LEG IS SLIGHTLY SWINGY , OTHER THAN THAT VERY GOOD NO STAINING TO BODY OR FACE , TOES ARE NICE AND NOT DEFORMED NO PINPRICKS OR SLICES, HAIR IS JUST LOVELY VERY SOFT NO CUTSSEE ALL MY BARBIE ITEMS WILL COMBINE SHIPPING ALL SALES FINALQuestions and answers about this item No questions or answers have been posted about this item. Ask a question
Puede que también te interese...