Sony Konica Minolta Normal AF 50mm f/1.4 Lens , vendido en Mayo 2010, ¡Por 146 GBP!
¿Cansado de perder subastas en el último segundo?
Date de alta en Keecua.com y consigue artículos como éste al mínimo precio gracias a las pujas de último segundo de Keecua.com, con Keecua.com conseguirás los mejores precios en eBay y evitarás subastas fraudulentas.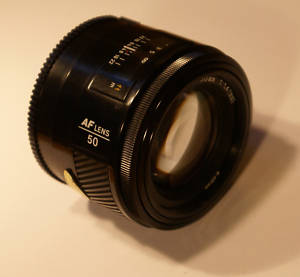 Seller assumes all responsibility for this listing.Item specifics - Camera LensesSubtype: 35mm SLRAperture: f/1.4To Fit Camera: Minolta, SonyLens Type: NormalLens Brand: Konica MinoltaType of Focus: AutomaticCondition: Used  See reviewsDetailed item infoProduct IdentifiersMPN 2662-110UPC043325401701Key FeaturesCamera Type35 mm SLRFocus TypeAutofocusTechnical FeaturesLens Construction7 Elements in 6 GroupsFocal Length50mmMin Aperturef/22Max Aperturef/1.4View Angle47 degreesFilter Size49 mmMinimum Focusing Distance18 inDimensionsDiameter2.56 inLength1.5 inWeight8.31 ozMiscellaneousZoom AdjustmentFixed Focal Length Lens Fantastic lens - sharp and fast.Perfect for indoor work in low light.Fits all Minolta & Sony DSL both APC and Full Frame00238
Puede que también te interese...