Shaved and Dangerous * by Baby Animals (CD, Jul-1996... , vendido en Abril 2010, ¡Por 2.24 EUR!
¿Cansado de perder subastas en el último segundo?
Date de alta en Keecua.com y consigue artículos como éste al mínimo precio gracias a las pujas de último segundo de Keecua.com, con Keecua.com conseguirás los mejores precios en eBay y evitarás subastas fraudulentas.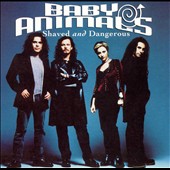 Seller assumes all responsibility for this listing.Item specifics - Music: CDsArtist: Baby AnimalsRelease Date: Jul 23, 1996Format: CDRecord Label: ImagoUPC: 727872301126Genre: RockDuration: Album or EPSub-Genre: Hard RockCondition: Very GoodSpecial Attributes: --See reviewsDetailed item infoTrack listing1. Don't Tell Me What to Do2. Buputa3. Life from a Distance4. Be My Friend5. Lovin' Lies6. Lights Out at Eleven (29.2.92)7. Backbone8. Nervous at Night9. Because I Can10. Stoopid11. At the End of the DayDetailsProducer:Ed Stasium, Nuno BettencourtDistributor:E1 Distribution (USA)Recording type:StudioRecording mode:StereoSPAR Code:n/aAlbum notesPersonnel: Suze DeMarchi (vocals, guitar); Nuno Bettencourt (guitar, acoustic guitar, background vocals); Dave Leslie (guitar, background vocals); John DeChristopher, Bill O'Meara (strings, cymbals); Tony Italia, Frank Celenza (drums); Eddie Parise (background vocals).Audio Mixer: Ed Stasium.Photographer: Michael Halsband.Unknown Contributor Role: Richard Parsons.Like a hard rock Annie Lennox, Baby Animals' lead singer, Suze DeMarchi, soars and swoops over the 11 tracks on Shaved and Dangerous. For the most part, the songwriting here is topnotch, with most of the songs showcasing fairly sophisticated harmonic and rhythmic ideas. Despite the proggy nature of some of the compositions, the mix is total pop, with DeMarchi way up front. However, this is a good thing, as she has a very strong, if sometimes overemotive, singing voice. Happy balances are struck on tracks such as "Baputa," which pairs a rolling, Hendrix-y guitar groove with almost Metallica-esque chorus riffs. Through it all, drummer Frank Celenza and bassist Eddie Parise groove incessantly, sounding rock-solid and confident even when accenting odd hits. Extreme guitarist Nuno Bettencourt shows up either playing guitar or singing on three tracks, and his presence is appreciated, even though he can't save the banal and downright annoying Free cover "Be My Friend," the weakest point on the record. However, "Because I Can," co-written by Bettencourt and DeMarchi, sounds like a latter-day Led Zeppelin, with its syncopated riffs and multi-tiered arrangement. If there is one complaint about Shaved and Dangerous (besides the laughably bad "Be My Friend"), it is that guitarist Dave Leslie really needs to be more present in the mix. DeMarchi has a great rock voice, and the band is understandably eager to show it off, but she can only do so if her foundation is strong. Shaved and Dangerous might have been a commercial disappointment for the band, but there is a lot of good music here for discriminating fans of rock & roll. ~ Daniel GioffrePortions of this page Copyright 1988 - 2010 MSI Music Corp. All rights reserved.Portions of this page Copyright 1948 - 2010 Muze Inc. All rights reserved.
CD, Case, and Artwork are in good shape.
Check out my other items. Some shipping discounts are available.
--
Puede que también te interese...