RESIDENT EVIL 1. PS1 & PS2 PLATINUM EDTION GAME , vendido en Junio 2010, ¡Por 5.5 GBP!
¿Cansado de perder subastas en el último segundo?
Date de alta en Keecua.com y consigue artículos como éste al mínimo precio gracias a las pujas de último segundo de Keecua.com, con Keecua.com conseguirás los mejores precios en eBay y evitarás subastas fraudulentas.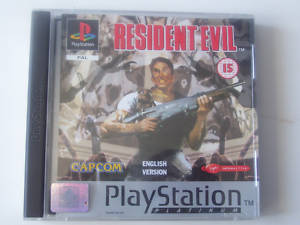 Seller assumes all responsibility for this listing.Item specifics - Video GamesCondition: Like NewPlatform: Sony PlayStationGenre: Action, AdventureFormat: PAL (UK Standard) --  
RESIDENT EVIL 1. PS1 PS2 PLATINUM EDITION GAME, COMPLETE WITH MANUAL AND INLAYS. FIRST GAME IN THE SERIES AND STILL AMONG THE BEST. SCUFFS TO THE DISC, LOADS AND PLAYS PERFECTLY. THANKS.
00022
Puede que también te interese...