ORIGINAL SLIDE 1974 RENFE Spain/Espana Steam 2-8-2;2218 , vendido en Agosto 2010, ¡Por 25.14 US$!
¿Cansado de perder subastas en el último segundo?
Date de alta en Keecua.com y consigue artículos como éste al mínimo precio gracias a las pujas de último segundo de Keecua.com, con Keecua.com conseguirás los mejores precios en eBay y evitarás subastas fraudulentas.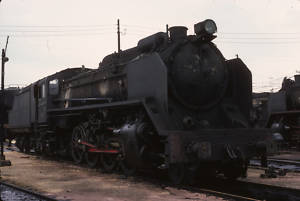 Seller assumes all responsibility for this listing.Item specificsFilm Type: Kodachrome Original SlideType: Railroad & Trains Description Original Kodachrome slide, processed by Kodak; RENFE 2218 at Miranda; July 16, 1974. Photo by Jim Buckley.This is a low-res scan, the slide is sharp, full frame and the color is good. Many of these slides are old, some may have slight issues, most can be seen on the scans.Seller assumes no risk for slides lost or damaged in the mail. Insurance is available; Contact seller for cost due to recent USPS increases. (eBay does not provide an option for the variable ins. rate due to value.)Buyer is responsible for requesting and paying appropriate insurance. Insurance is available for International destinations, inquire for specifics.Will ship to U.S., Canada and International addresses. Contact seller for additional information.Shipping charges are U.S. Free; Canada $1.50 and International $2.00.Winning bids from one auction/winner will be combined and only one shipping charge will be billed. Invoicing takes place as soon as possible after auction closes.Note:All payments are due within 7 days of the auction's closing date. I reserve the right to relist any slide not paid for 10 days after the end of the auction. These bidders will be subsequently blocked from any future auctions. I will not hold slides from one auction combining with those from another auction unless you have made prior arrangements with me prior to bidding.Shipping will occur as soon as possible after payment is received.If you have any questions on payment terms, shipping, inquire before placing a bid. Important Notice: I do not sell scans or prints of these slides nor will contact the winning bidder on your behalf if you do not win the slide auction. --
Puede que también te interese...