Myu564 WALT DISNEY GOOFY CARTOON CLASSIC 1 1992 PF/MNH , vendido en Abril 2010, ¡Por 5 EUR!
¿Cansado de perder subastas en el último segundo?
Date de alta en Keecua.com y consigue artículos como éste al mínimo precio gracias a las pujas de último segundo de Keecua.com, con Keecua.com conseguirás los mejores precios en eBay y evitarás subastas fraudulentas.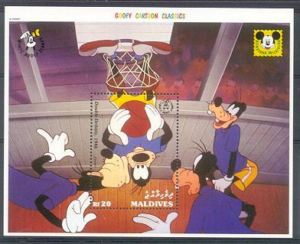 Seller assumes all responsibility for this listing.Nachtvlinder100 PostzegelhandelVisit my eBay storeAdd this store to favoritesStore CategoriesStore homeEUROPA / EUROPEWERELDWIJD / WORLDWIDEVOGELS / BIRDS / VÖGELKATTEN / HONDEN WILD CATS/DOGSREPTIELEN/REPTILES/AMPHIBIANSFAUNA ALL KIND OF ANIMALSTRANSPORT / RUIMTE / SPACESPORT / SPORTSKUNST / CULTUUR ART / CULTUREMOTIEF DIVERS/VARIOUS TOPICALSWALT DISNEYWWF
Wanneer je Walt Disney verzamelt,
is dit je kans om een mooie aanvulling te kopen.
Laat dit niet lopen en bied op deze leuke kavel.
Maldives, postfris blok
MNH sheet 1992, Basketball
Meerdere kavels kunnen gecombineerd verzonden worden. Wacht u in dat geval alstublieft op de factuur.
If you buy more then one lot they can be shipped together. In that case please wait untill you get my invoice.
Voor verzendkosten naar het buitenland kijkt u alstublieft naar de tabel op de pagina 'over mij'.
Klik op mij boven aan de pagina
For shipment costs within Europe or outside Europe please look at the information on the page 'about me'.
click on mij at the top of this page
I know some of you want to pay with PayPal right away, but please wait until you get my invoice. I can change the shipment costs for shipping to your country and when you buy more than one item it can mean you will save on shipping costs. I do my best to make your invoice as soon as possible after your purchase(s).
Binnen Nederland accepteer ik geen PayPal betalingen.
Ik geef de voorkeur aan betaling middels een bankoverschrijving.
I prefer payment by bankwire.
PayPal—eBay's service to make fast, easy, and secure payments for your eBay purchases!
Gemaakt door eBay Turbo Lister. De gratis aanbiedingstool. Bied je objecten snel en gemakkelijk aan en beheer je actieve objecten. Business Seller InformationPostzegelhandel Nachtvlinder100Marjolein de VriesHoogstraat 743417HD MontfoortNederland
Phone:
 0348470002
Fax:
 0348 417225
Email:
 mientje1@xs4all.nl
Trade Registration Number: 30221190Value Added Tax Number: NL 175768766B01
Return policyBent u niet tevreden, dan krijgt u uw geld van de aankoop terug. Verzendkosten kunnen helaas niet worden vergoed. De artikelen moeten zorgvuldig verpakt worden geretourneerd. Onderweg beschadigde artikelen, veroorzaakt door onzorgvuldige verpakking, kunnen niet worden vergoed. If you are not satisfied, you will get your money back. Shipment costs however cannot be refunded. The articles must be packed carefully. If not carefully packed articles get damaged while being sent back, they cannot be refunded.
00008
Puede que también te interese...