Mini-z mr02 opcionado , vendido en Julio 2010, ¡Por 83.5 EUR!
¿Cansado de perder subastas en el último segundo?
Date de alta en Keecua.com y consigue artículos como éste al mínimo precio gracias a las pujas de último segundo de Keecua.com, con Keecua.com conseguirás los mejores precios en eBay y evitarás subastas fraudulentas.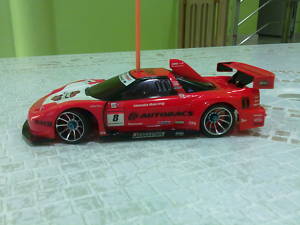 Seller assumes all responsibility for this listing.Item specificsCondition: Used  Mini-z mr02 con las siguientes opciones:-Carroceria NSX-Bancada Atomic ver.5 de 94mm-Diferencial Atomic (AR-213) de precision y eje titanio-Motor Atomic (AR30) stock 130 motor-Piñon 8 Atomic-King Pin Atomic (#AR55) Uitra Stainless-Suspencion de disco Atomic-Manguetas aluminio 1º-Barra de direccion Atomic 1º-Tapas de pilas aluminio 3racing-Llantas PN Mini-Z MR-02 Alloy Front 10 Spoke Wheel - +2 Offset-Llantas PN Mini-Z MR-02 Alloy Rear 10 Spoke Wheel - +3 Offset-Electronica ATOMIC (#IC-003) Micro Fine-Tune ESC Unit (2WD)-Rodamientos-Tuercas aluminioNota : no incluye emisora , ni pilas. Mirad los demás articulos que tengo puestos en venta.Saludos y suerte con la puja.Questions and answers about this item No questions or answers have been posted about this item. Ask a question
Puede que también te interese...