MANOUSH Size M Long Sleeved Grey Top , vendido en Abril 2010, ¡Por 11.5 EUR!
¿Cansado de perder subastas en el último segundo?
Date de alta en Keecua.com y consigue artículos como éste al mínimo precio gracias a las pujas de último segundo de Keecua.com, con Keecua.com conseguirás los mejores precios en eBay y evitarás subastas fraudulentas.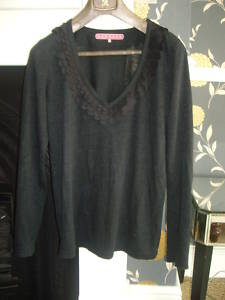 Seller assumes all responsibility for this listing.Last updated on 04:40:38 AM PDT, Apr 09, 2010 View all revisionsItem specificsCondition: UsedT-Shirt Style: Long-sleeved T-shirt (without motif)Brand: ManoushSize: M
MANOUSH
Size M
Long sleeve loose fit top in grey
Cute detail at neckline
Like new
Please e-mail with any queries
Questions and answers about this item
Q: 

hi, can you tell me hat material this is? many thanks

A: 

Hi Material is 55% linen 45% Rayon. Kind regards mm
Apr 15, 2010
Ask a question
--
Puede que también te interese...