LES FLEUR DE LYS Reflections LP 1965-1970 UK Freakbeat , vendido en Junio 2010, ¡Por 12.99 EUR!
¿Cansado de perder subastas en el último segundo?
Date de alta en Keecua.com y consigue artículos como éste al mínimo precio gracias a las pujas de último segundo de Keecua.com, con Keecua.com conseguirás los mejores precios en eBay y evitarás subastas fraudulentas.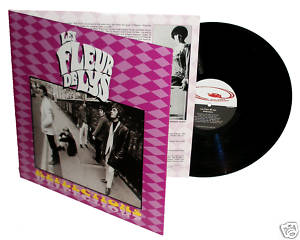 Seller assumes all responsibility for this listing.Last updated on 12:20:42 PM PDT, Jun 21, 2010 View all revisionsItem specificsCondition: Brand New  
LES FLEUR DE LYS Reflections LP 1965-1970 Turning Point Music TP02319
Limited Edition Italian Vinyl issue only of a few hundred copies, in gatefold sleeve with detailed liner notes. Rare recordings of this enigmatic band. Includes all the songs issued under the Les Fleur de Lys name. if you like mid-to-late '60s mod-psych, there's some sparkling (occasionally crazed) guitar work, unusually constructed tunes that sometimes meld soul and psychedelia, and nice harmonies. "Circles" and "Mud in Your Eye" are first-rate pounding mod guitar tunes; "Gong With the Luminous Nose" is pop-psych at its silliest; "Reflections of Charlie Brown" is pop-psych at its most introspective; and Sharon Tandy's "Daughter of the Sun" is a lost near-classic with witchy vocals and sinister psychedelic guitar.
Track Listing:
MOONDREAMS
WAIT FOR ME
CIRCLES
SO COME ON
MUD IN YOUR EYE
I'VE BEEN TRYING
I CAN SEE THE LIGHT
PRODIGAL SON
GONG WITH THE LUMINOUS MOSE
HAMMERHEAD
STOP CROSSING THE BRIDGE
BRICK BY BRICK
Side Two
YOUR'E JUST A LIAR
ONE CITY GIRL
HOLD ON
DAUGHTER OF THE SUN
TICK TOCK
SO MANY THINGS
I LIKE WHAT I'M TRYING TO DO
I FORGIVE YOU
BUTCHERS AND BAKERS
Condition: NEW & Sealed / NUEVO y Sellado
Tracking / Insurance & Registered / Certificado Post: Please add £2.50
00008
Puede que también te interese...