LARGE ANTIQUE CLOCK WURTTEMBERG UNGHANS CHIMING GERMAN , vendido en Junio 2010, ¡Por 26.4 GBP!
¿Cansado de perder subastas en el último segundo?
Date de alta en Keecua.com y consigue artículos como éste al mínimo precio gracias a las pujas de último segundo de Keecua.com, con Keecua.com conseguirás los mejores precios en eBay y evitarás subastas fraudulentas.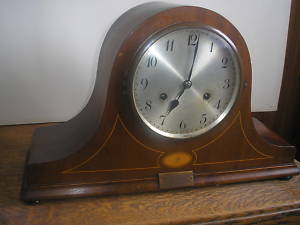 Seller assumes all responsibility for this listing.Last updated on 11:26:48 AM PDT, May 27, 2010 View all revisionsItem specifics - ClocksAge: Antique, Post-1900Style/ Origin/ Theme: GermanType: Mantel/ Carriage ClockMaterial: Wood, OtherSub-Type: Mantel ClockCondition: UsedFeatures: 8-Day, Chimes, Pendulum, Moving Parts, Striking/ Repeating  
LARGE ANTIQUE GERMAN CHIMING MANTLE CLOCK CIRCA 1920
This is a large and very grand looking antique German chiming mantle clock dating from the 1920s Engraved on the inside at the back of the clock workings it states that it was 'Made in Wurttemberg' Germany and with the name , ( maker ) J. Unghans , also the number B26 . It stands on four wooden ball feet . Eight-day movement striking the hours and half hours on a gong. Measures 10 inches in height, 16 1/2 inches in length and 5 inches width. Clock is in good condition and works perfectly well.
we can only state that the wooden case could do with a good polish
As with all vintage clocks, no claims are made regarding accuracy of time keeping. Vintage clocks may need servicing, even if they are in good running condition, and unless otherwise stated they may need to be cleaned, timed, oiled or adjusted especially after transit.
Please note, any purchased item will be packed with utmost care, using bubble wrap to protect, then sent in a sturdy box 1st Class Recorded Delivery,
Terms and Conditions , Please Read
PLEASE NOTE ,
Parcel Force and other mail companies will NOT insure any items made with or containing glass or ceramics , please note we will remove glass if requested from picture frames , we have over the years sent well over 200 pictures worldwide and only twice has damage happened to the glass , please ensure that you are aware of these conditions which are published by the mail companies ..
If a postal tracking system is not paid for buy the buyer on any purchase then please be aware that by bidding you acknowledge and accept that we will not be responsible for any loss in transit and no claim will be made to paypal .
Postal Insurance
We always obtain proof of postage from the post office when shipping items both to the UK and overseas. All packages are therefore automatically covered for loss and damage (both UK and overseas) to the value of GBP 41.00. For larger items please note that the Standard Parcels service (UK only) does not provide cover for breakage – only loss.
If the item sells above this value (GBP 41.00) then you should select the Special Delivery option for delivery within the UK. This service provides cover for loss and damage to the value of GBP 500.00.
The cost of providing extra cover (for items over GBP 41.00) for overseas shipment is currently GBP 7.00 via the Royal Mail Airmail Signed For service. It is therefore not worth taking this cover unless the item's final value is more than GBP 48.00. Please request this service (if not already included in the listing) if you require full cover for loss and damage above that amount and I will invoice you accordingly. The maximum cover is GBP 500.00.
1. All Items are used unless otherwise stated. All efforts are made to describe the item, and its condition, as accurately as possible but please note we are not experts in any field , additional pictures or information is always available . 2. All items are packed to the highest standard using bubblewrap, polychips and strong boxes, to ensure goods are safe during transit, as the Royal Mail will not accept claims for breakages to China or Glass, unless Special Delivery is used. 3. Postage is charged at cost plus a small charge towards the cost of packaging materials. Multiple purchases will be combined where possible, to reduce the Postage Costs. We will gladly ship worldwide, but if you require shipping costs, please ask in plenty of time.
4.Registered signed for delivery by airmail is GB£7.00 in addition to the P&P charges for items up to £41.00 from this amount up to £500.00 the registered signed for delivery cost is £7.00 in addition to the postal charges , All UK deliveries will be sent with signed for delivery / tracking or special delivery
5. Proof of posting is always obtained and kept for a period of three months. No responsibility will be accepted for loss unless the appropriate insurance is undertaken, but we will assist in any claim by providing the original proof of posting. In all cases, postage is NOT refundable by the Royal Mail.6.The winning bidder MUST make contact within three days of auction close and payment must be made within 7 days (Unless by prior arrangment). Failure to do so will lead to the item being automatically re-listed and all fees being claimed by way of a non paying bidder alert. ,,7. For UK bidders, payment can be made by Cheque (Preferred), Postal Order or Paypal. For bidders outside the UK, payment by Paypal or bank transfer only please. I will NOT accept any other method of payment so please do not ask.8. PLEASE NOTE --- Any of our listings can be inspected during the sale or if desired can be collected at the completion of the sale9. Please bookmark our site for quality Antiques and Collectables , these will include Art Deco and Art Nouveau pottery and porcelain by Royal Doulton , Royal Worcester , Minton , Wedgwood and Royal Crown Derby also limited edition prints and Etchings by Lowry , Russell Flint , Piper , Langmaid . Wyllie and Thorburn 10. Finally, read my feedback and bid with confidence! If you have any questions, please do not hesitate to ask.
Questions and answers about this item 
Q: 

Hello. I'm interseted in buying this clock. I live in Poland. Do you send parcels to Poland and what is the shipping cost? There is also a possibility of sending this item to Wales where my sister lives. It depends what... Continue reading

A: 

good afternoon , many thanks for the email , we will post to all locations , ( international signed for ) , the costs will be most expensive , could be over £40.00 , to send to Wales it would be less expensive and probally... Continue reading
Jun 02, 2010
Ask a question
00113
Puede que también te interese...