Iphone 3gs 16gb broken/parts/repair No power AS-IS , vendido en Junio 2010, ¡Por 171.5 EUR!
¿Cansado de perder subastas en el último segundo?
Date de alta en Keecua.com y consigue artículos como éste al mínimo precio gracias a las pujas de último segundo de Keecua.com, con Keecua.com conseguirás los mejores precios en eBay y evitarás subastas fraudulentas.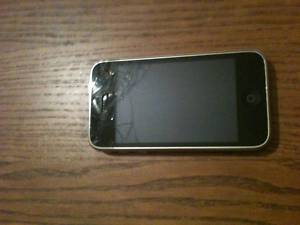 Seller assumes all responsibility for this listing.Item specifics - Mobile PhonesCondition: For parts or not workingBrand: apple iphone 3gs 16gbType: SmartphoneModel: --Network Standard: --Simlock: --Camera: --Bundled Items: --Features: Bluetooth, Email / Web, GPRS, Java enabled, Color Screen, MMS enabled, MP3 Player, GPS, Streaming video, Vibration, USB  
Please Read The Description Before Placing a Bid
You are bidding on used apple iphone 16gb 3Gs WONT POWER ON the glass is broken so i am selling it sold as seen no returnes.
broken with the phone that it shows symbol on the phone and it does not go further than that this is sold as seen
no box no accessoires and no sim tray.
SOLD AS FAULTY WITH NO GUARANTEE
no returns and no negative feedbacks!!!!!
Questions and answers about this item 
Q: 

Can you tell me if the phone is turn on. thanks

A: 

this is iphone turn not on, no power.
Jun 23, 2010
Ask a question
Puede que también te interese...