GOOD GIRL GROUP NORTHERN PAT POWDRILL on REPRISE HEAR , vendido en Abril 2010, ¡Por 9.29 EUR!
¿Cansado de perder subastas en el último segundo?
Date de alta en Keecua.com y consigue artículos como éste al mínimo precio gracias a las pujas de último segundo de Keecua.com, con Keecua.com conseguirás los mejores precios en eBay y evitarás subastas fraudulentas.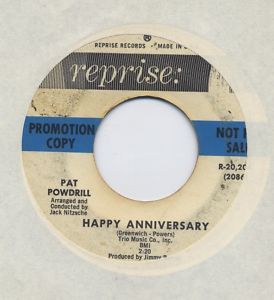 Seller assumes all responsibility for this listing.Item specificsSpeed: 45 RPMRecord Size: 7"Genre: R&B & SoulSub-Genre: Northern SoulDuration: SingleSpecial Attributes: Promo Fine early 60s relic by the mysterious Pat Powdrill on Reprise 20204. Lotsa firepower in the production end, Ellie Greenwich co-composer, and the amazing Jack Nitzsche arranging and conducting. The results are as good as you would expect, with "Happy Anniversary" being a powerful bit of pop fluff, nice and melancholy. Good up tempo flip "I Forgot More Than You'll Ever Know". A bit rough but plays pretty good, VG- condition. Listen to it at my website Powdrill.--
Puede que también te interese...