GENUINE 1950s Bakelite Table / Wall Lamp ROCK N ROLL , vendido en Abril 2010, ¡Por 46 EUR!
¿Cansado de perder subastas en el último segundo?
Date de alta en Keecua.com y consigue artículos como éste al mínimo precio gracias a las pujas de último segundo de Keecua.com, con Keecua.com conseguirás los mejores precios en eBay y evitarás subastas fraudulentas.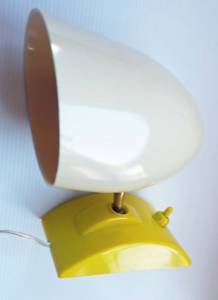 Seller assumes all responsibility for this listing.Item specifics - Decorative ArtsProduct: LampsStyle/ Period: ModernistSub-Type: --Age: Post-1940Primary Material: SyntheticOriginal/Repro: Original
Genuine 1950s Lamps are always very hard to find - esepcially ones with such an atomic, space age stylised design to them. This one is made completely from a hard plastic material - similar in texture and structure to Bakelite - but is a later plastic which will take more vibrant colours. This one is in really lovely condition for its age. It has a bright sunshine yellow base, with a little toggle on and off switch. From the base protrudes a little gold metal stem on top of which sits the white plastic horn like space of a shade. This would have been pure white when first made, but is now just slightly off-white (not really off colour) which would have occurred with age. The shade has no cracks or chips, and most importantly has NOT suffered from any burns or melting due to someone putting much too bright a bulb in it in the past - phew! It is always hard breaking to see lovely old lamps with fantastic plastic shades ruined by being melted by heat. It has a bayonet fitting - so ordinary modern light bulbs should fit in - but remember whomever wins this - easy on the wattage etc!
This old lamp can also be wall mounted as there are slots on the base to allow you to pop it on your wall - perhaps to light up a Tretchikoff picture of the like!. It has its original wiring and it works and lights up! If you collect 1950s items with a rock and roll theme - you will know just how hard it is to find these modernist designs in lighting.
Please feel free to ask me any further questions. We wont have this wrapped up until nearer the end of the auction in case of any questions. So at this moment postage is really an estimated one... but rest assured we dont add "scary extras" to post anywhere - only the amount charged by the UK Royal Mail. Any doubts please see my excellent feedback.
--
Puede que también te interese...