EXCEPTIONNELLE NANCY DE FAMOSA ET TROUSSEAU MUNECA , vendido en Junio 2010, ¡Por 252.11 EUR!
¿Cansado de perder subastas en el último segundo?
Date de alta en Keecua.com y consigue artículos como éste al mínimo precio gracias a las pujas de último segundo de Keecua.com, con Keecua.com conseguirás los mejores precios en eBay y evitarás subastas fraudulentas.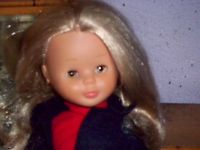 Seller assumes all responsibility for this listing.Item specifics - DollsCondition: UsedType: MannequinsUse: --Sub-Type: --Doll Name: --Brand: FamosaMaterial: PlasticHair color: BlondeFeatures: --   exceptionnelle poupee nancy de famosa avec un jolie trousseaula poupee est en parfait etat,elle a la taille et la tete articulee,ses bras sont mous,elle date des annees 70elle viendra avec son jolie trousseau comprenant2 paires de bottes,1 paire de chaussures,1 paire de sabots1 robe avec les chaussettes assorties,2 pantalons,1 pull,1 anorak facon kway,,1 tee shirt1 gabardine avec le chapeau ainsi que sa jupe avec le pull,le beret et la veste assorticette poupee ainsi que son trousseau sont en parfait etat
Business Seller Information
ardissonepascale ardissonesaint etienne03150 saint gerand le puy, AuvergneFrance métropolitaine
Phone:
 0470998789
Email:
 pascale.ardissone@club-internet.fr
Trade Registration Number: rcs cusset 385 266 481Value Added Tax Number: FR SME
Terms and conditions of the salePrint version
je prends le plus grand soin de l'emballage afin que les objets arrivent en bon etat cartons rigides ou doublee etcReturn policyrenvoi du colis sous 7 jours si probleme non mentionne sinon retour refuse reexpedition a la charge de l'acheteur
--
Puede que también te interese...