Donkey Kong Country 2 Snes Super Nes game cart only , vendido en Junio 2010, ¡Por 11 GBP!
¿Cansado de perder subastas en el último segundo?
Date de alta en Keecua.com y consigue artículos como éste al mínimo precio gracias a las pujas de último segundo de Keecua.com, con Keecua.com conseguirás los mejores precios en eBay y evitarás subastas fraudulentas.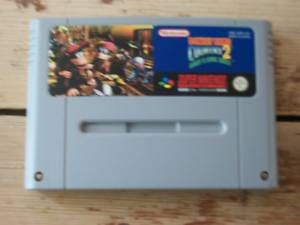 Seller assumes all responsibility for this listing.Item specifics - Video GamesCondition: Like NewPlatform: Nintendo, SuperGenre: Action, AdventureFormat: PAL (UK Standard) --  
Donkey Kong Country 2 rare and classic Super Nintendo game, cart only. Tested and in good working and cosmetic condition.
Please check out my other games for sale.
UK Bidders only please.
Puede que también te interese...