Briefmake aus Rumänien,Bl.Rotes Kreuz,postfrisch , vendido en Abril 2010, ¡Por 1 EUR!
¿Cansado de perder subastas en el último segundo?
Date de alta en Keecua.com y consigue artículos como éste al mínimo precio gracias a las pujas de último segundo de Keecua.com, con Keecua.com conseguirás los mejores precios en eBay y evitarás subastas fraudulentas.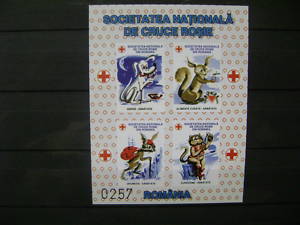 Seller assumes all responsibility for this listing.Item specifics - StampsCountry: EuropeCondition: Mint never hinged/MNHArea: RomaniaAuthenticity: UndefinedCatalogue Number: --Certification: Non certifiedMichel Catalogue Value: --Topic: --Amount of offer: --   Hallo liebe Briefmarkensammler,da ich einen großteil meiner Briefmarkensammlung auflösen möchte, biete ich euch folgenden Artikel an:Briefmarken aus Rumänien,Block Rotes Kreuz,Aus dem jahre 2001,siehe scan,postfrisch, geschniten. Bezahlung/Payment:Bezahlung aus Deutschland und der Euroländern bitte per Überweisung . Alle anderen Länder , via paypal .Payment from Germany and the Euro-countries by money transfer . For all other countries paypal. No cheques, please. Versandkosten:Deutschland 1,00€ (Deutscher Postbrief)Europa 1,00€ (Deutscher Postbrief)Rest der Welt 2,00€ (Deuscher Postbrief)Wenn per Einschreiben erwünscht, dann zzg. 2,50€ auf Porto zuschlagen & per Mail bescheidsagen!Wenn Sie mehr als einen Artikel ersteigert haben, dann wird ein Versandrapattgewährleistet! Sie werden per e-mail benachrichtigt wie viel Versand Sie zahlen müssen. Irrtümer vorbehalten!!! 00003
Puede que también te interese...