BELLE POUPéE MILY 2° éPOQUE BLONDE , vendido en Octubre 2010, ¡Por 54 EUR!
¿Cansado de perder subastas en el último segundo?
Date de alta en Keecua.com y consigue artículos como éste al mínimo precio gracias a las pujas de último segundo de Keecua.com, con Keecua.com conseguirás los mejores precios en eBay y evitarás subastas fraudulentas.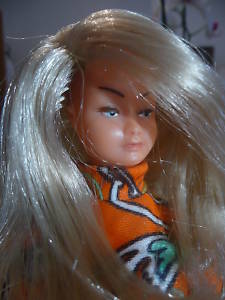 Seller assumes all responsibility for this listing.Last updated on 12:36:59 PM PDT, Sep 24, 2010 View all revisionsItem specifics - DollsType: 1972Use: AntiqueSub-Type: --Doll Name: Poupée mannequin MilyBrand: GéGéMaterial: --Hair color: BlondeCondition: --Features: --  
BELLE POUPéE MILY 2nde éPOQUE BLONDE
Maquillage parfait, comme le montre la photo 1 = belle blonde aux yeux bleus, bouche orangée, chevelure opulente et brillante.
Le corps, bien que très peu manipulé, présente quelques défauts : les jambes ne plient plus, fente de 1 cm sur la rotule à la taille, (ces deux défauts sont communs à de nombreuses Mily) , décoloration sur les deux coups de pied à l'endroit où se trouvaient les brides des mules.
Superbement vêtue d'une robe TRESSY BELLA 1ère époque, (robe en parfait état, comme neuve, et pression blanche intacte) . Chaussée d'une paire de bottes TRESSY BELLA en caoutchouc souple, en parfait état.
Envoi en colissimo simple.
TRèS JOLIE POUPéE DE COLLECTION
Questions and answers about this item 
No questions or answers have been posted about this item.
Ask a question
Puede que también te interese...