Alfa AWUS050NH , vendido en Abril 2010, ¡Por 20.21 EUR!
¿Cansado de perder subastas en el último segundo?
Date de alta en Keecua.com y consigue artículos como éste al mínimo precio gracias a las pujas de último segundo de Keecua.com, con Keecua.com conseguirás los mejores precios en eBay y evitarás subastas fraudulentas.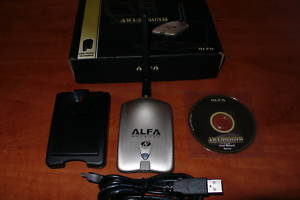 Seller assumes all responsibility for this listing.
Alfa AWUS050NH IEEE 802.11a/b/g/n Wireless USB adapter provides users to launch 802.11a/b/g/n wireless network at 150/300 Mbps in the 2.4GHz/5.8GHz band, which is also compatible with 802.11a/b/g wireless devices at 11/54 Mbps. You can configure AWUS050NH with ad-hoc mode to connect to other 2.4GHz/5.8GHz wireless computers, or with Infrastructure mode to connect to a wireless AP or router for accessing to Internet.
Chipset
Ralink RT2770 RT2750
Interfaz
USB rev. 2.0 B-Type to A-Type
Banda de frecuencias1 x 2.4/5GHz RP-SMA connector with Antenna1 x Dual band print antennaModulaciónIEEE 802.11b/g2412 ~ 2462 MHz (N.A)2412 ~ 2472`MHz (EU)2412 ~ 2482`MHz (Japan)
IEEE 802.11a5150 MHz – 5250 MHz (Japan)5150 MHz – 5350 MHz5470 MHz-5725 MHz (Europe)5150 MHz – 5350 MHz5725 MHz-5850 MHz (USA)
Tasa de transferencia27dBm@11b/g21dbm@11bgn HT2020dbm@11bgn HT40
18dbm@11a 13dbm@11a HT20-(14dbm)14dbm@11a HT40-(13dbm)
Nº de canales de trabajoIEEE 802.11b/g1 ~ 11 channels (North America)1 ~ 13 channels (General Europe)1 ~ 14 channels (Japan)
IEEE 802.11a4 Channels (Japan)19 Channels (Europe)13 Channels (USA)
Seguridad64/128bit WEP
WPA(TKIP con IEEE 802.1x)
WPA2(AES con IEEE 802.1x)
Sensibilidad802.11b: Up to 11 Mbps802.11g: 54Mbps802.11n: 300Mbps
Consumo de energía
Transmisión/ Recepción: 290mA/240mA at 5VDC Compatible con:
Windows 7, Windows 98SE, Me, 2000
XP, XPx64
Vista, Vistax64, MAC, Linux
Backtrack, netsumbler, vistumbler, essider...
El Kit Incluye:
Alfa Network MIMO + Antena 2 dBi + Cable USB + Controladores y software de conexión + soporte para su colocación + ventosa.
Puede que también te interese...