1GB Sandisk Sansa C250 MP3 Player & FM Radio - MicroSD , vendido en Junio 2010, ¡Por 6.5 GBP!
¿Cansado de perder subastas en el último segundo?
Date de alta en Keecua.com y consigue artículos como éste al mínimo precio gracias a las pujas de último segundo de Keecua.com, con Keecua.com conseguirás los mejores precios en eBay y evitarás subastas fraudulentas.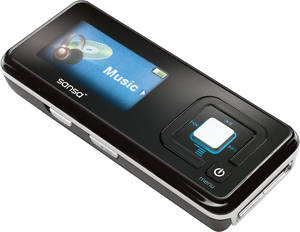 Seller assumes all responsibility for this listing.Item specificsBrand: SanDiskModel: Sansa ClipUsage: Music, Photo Viewing, RecordingAdditional Features: Folder Support, Radio Recorder, Voice RecorderDisplay Capability: Multicolour - ImagesStorage Capacity: 1GBMemory Type: Flash + Memory SlotCompatible Memory: Secure Digital (SD)PC Interface: USB 1.0/1.1, USB 2.0Battery Life: 10 - 15 HoursWeight and Size: Compact  ITstorVisit my eBay storeAdd this store to favorites|Sign up for newsletterExternal Hard DrivesMP3 PlayersMultimedia GadgetsOtherItems On SaleStore CategoriesStore homeExternal Hard DrivesPortable External Hard DrivesUSB Flash / Stick / Key / PenMP3 PlayersMultimedia GadgetsDigital Photo FramesCamcordersWireless NetworkingNetwork StorageComputer Security HardwareWeb CamerasDesktop / Laptop AccessoriesBluetooth HeadsetsNetbooksStorage MediaGPS (Sat-Nav)Computer MouseHousehold GadgetsMP3 SpeakersSD CardsWireless RoutersWireless PCI Adapters for PCPrint ServersGigabit Port SwitchesWireless Network CardWeb Safe RouterWired Laptop Network CardGigabit Card Network AdapterEthernet ModemADSL+Ethernet ModemSee all categories...
1GB Sansa C250 MP3 Player, FM Radio, Voice Recorder
with MicroSD Card Slot for extra capacity!
by SanDisk(RRP £29.95)The Sansa c200 Series MP3 players are the latest in SanDisk's audio line. Created by the leaders in flash memory, this flash-based player provides everything you need to play music and enjoy photos – in vibrant colour! This affordable, compact colour-screen MP3 player has an amazingly easy-to-use interface.
Features:
Plays MP3, WMA, WAV and protected WMA DRM By capacity, holds large number of MP3/WMA songs and hours of playback (see above capacity matrix) Affordable, compact MP3 Player with colour screen Color screen (up to 64,000 colours) displays cover art and photo thumbnails Easy-to-use interface for sorting and playing back your music Supports Subscription Music Stores High-speed USB2.0 for fast and easy file transfer Rechargeable and Removeable Battery MicroSD Slot
Technical Specs:Audio Capabilities: MP3,WMAScreen: On screen display Playlist / Table of Contents / 64,000 colours / 1.4" inchesConnections: USB2.0Extra Features: FM Stereo Tuner, Voice Recorder, Radio Recorder, Picture ViewerDimensions: 8cm(h), 3.4cm(w), 1.5cm(d), Weight 42.8gContents: MP3 Player, Sandisk Earphones, USB Cable
All items are refurbished by Sandisk to a new condition and have a 3 month warranty
Shipping Details:
All items are shipped by Royal Mail
Please contact us if your item has not been delivered within 15 days from the date of purchase. We are then able to make a Royal Mail claim for compensation. We can ship a replacement or a refund can be issued at this point.
Payment Details:
We accept the following payment methods:
PayPal
PayPal E

-

Cheque
(Please allow up to 10 days for payment to clear
)
Feedback:
We will leave feedback once it has been left for us so we know you are happy with your item. Please contact us if you have any issues.
Returns:
If you have any issues with your item in the first 3 months please contact us. If the item is deemed to be faulty we will replace for a new unit. Please contact us to obtain a Returns Form before returning your item.
Contact:
When we have received payment we will notify you when your item is shipped with a "Dispatched Email".
Please contact us with "eBay Messages" if you have any queries.
We aim to answer all emails Monday to Friday within 24 hours.
Business Seller Information
ITSTORBenjamin Witts24 Scrubs LaneLondonLondonNW10 6RAUnited Kingdom
Email:
 ebay@clever-stuff.com
Value Added Tax Number: GB 769260889
Return policyItems found to be faulty within 3 months from purchase can be exchanged for a new item, Thank You
00007
Puede que también te interese...